Your Insights Review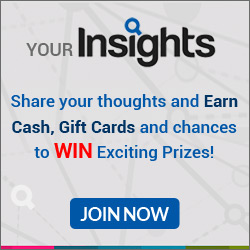 Your Insights is a good way to share your opinions and be rewarded.
For every survey you complete at Your Insights you will be entered into the quarterly sweepstakes for a chance to win up to $1000 in cash and/or gift certificates.
Many surveys at Your Insights you will also earn points equivalent to dollars.
The number of points received for each survey vary between the equivalent of between $0.50 and $5 you will know how much each survey is worth in your survey invite.
Once you have reached 2000points = $20 you may redeem your rewards for a cheque.